William Frank - Orphan Train Rider – Part II
Submitted by ATHS Admin on February 5, 2014 - 7:19pm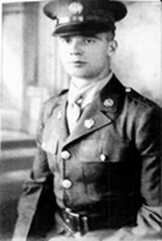 submitted by Sylvia Frank Mabe
Our summer issue of Ancestral News presented Part I of the Orphan Train story. Herein is the rest of the story as told by Sylvia Frank Mabe (In Part 1 the last name was misspelled Mare), daughter of rider, William Frank.
William R. Frank, US Army Retired, and a long-time resident of Elizabethtown, Kentucky, began his young life as a New York City orphan which led to a life-changing adventure on a little known institution - The Orphan Train.

Eight-year-old William's last memory of his mother was seeing her walk out the door with his infant sister, Emma. That memory prompted William's widow, Wilma Carmen Frank, to begin a search into his past, a past she knew little about. A past she never discussed.

According to a hand-written letter from Victor Remer of The Children's Aid Society (CAS) of New York City, William was one of three children born of the union of Martin Frank, 55, resident of Brooklyn, a laborer and Emma E. Griffin, 35. The children were Martin, born 03/10/14, William, 10/03/15 and Emma, born in June of 1923.

On November 15, 1923 Emma deserted her family, taking her infant daughter with her. Martin Frank, unable to care for the boys, turned them over to the Brooklyn Home for Children which was operated by the Society for the Prevention of Cruelty to Children. Thus began the "ride".

From 1853 to 1926, thousands of New York City children lived their lives on the streets, uncared for, left to fend for themselves, hungry and often sick. Many more, whose families were destitute or wiped out by diseases like typhoid, cholera and influenza, were placed in orphanages or other social agencies. Over a period of seventy-three years, over 100,000 orphaned or abandoned children were sent west by The Children's Aid Society and The New York Foundling Hospital as participants in a social experiment called The Orphan Train Movement, a forerunner of today's foster care system. The process was called "placing out" and the homes were called "free homes" - no money or fees were involved. The children were referred to as "riders".

The idea was to place the children with new families that could care for them. Love them. Homes in America's farmlands where they would benefit from clean air, home-grown food and rural living. While these orphan trains saved the lives of thousands of needy children, it also broke up families. CAS tried to place siblings in a single home or at least in close proximity to one another. This did not always happen and some families were forever separated. For many years, CAS has diligently searched its records to help people find their families. Thanks to their careful record keeping, there have been many touching reunions.
Departing New York City on the Orphan Train had to be exciting for these children who had only known life in the city. They watched the cities change to vast empty prairie. They saw mountains and rivers and miles and miles of open spaces. When they reached their destination they were spruced up and marched into a large building - often a church - where prospective parents inspected and questioned them. Siblings clung together in hopes they would not be separated.

Many of the children went to loving homes but about 25% suffered great unhappiness. Some were chosen solely to work on the farm or to help with the woman's housekeeping chores. The adoptive parents contracted to provide for the child's basic needs but this did not always include love.

An agent of CAS visited the children at least yearly to check on their care and to authorize medical treatment, education paths and generally to supervise the child's life. Notes were recorded after each visit and these notes provided a wealth of information about the child's life. Only through these records were the families of William and Martin Frank aware of how they were raised, the influences of the families they lived with and the way their character was formed. Neither had ever divulged any of those past events to their families.

William, eight years old, and his brother, Martin, ten, were "riders" on the train in February, 1924, destined for Chillicothe, Missouri. Martin was placed with a family in Marysville and William went to a family in the same town. Because of a "kidney problem" (bedwetting), William was returned to New York for a period of five years until his condition improved or was "cured".

Separated from his brother, an unhappy Martin was placed in a succession of homes. Reports of "not satisfied, resents authority, plays too much basketball, not reliable" followed him from home to home. He finished high school and CAS determined that he was a bright student, a talented musician and would do well in college. They paid his tuition to Iberia College where he excelled as a singer and violinist. Demons plagued him as he drifted in and out of college and from one job to another

In a letter from Victor Remer of CAS to Wilma Frank which accompanied Martin's records, he said of Martin..."The enclosed notes describe the close and caring relationship developed by our workers with Martin, particularly Miss Greenleaf who seemed genuinely fond of him and eager to help him through difficult periods. Indeed, we have very few records in which a worker spent so much time and invested so much of her efforts in one youngster." In 1935 Martin came of age and was discharged from CAS's care. Martin was in the Army during World War II, married, had two children and lived his life in Washington State. He never escaped the demons.

In 1929 William returned to Missouri and was placed in the farm home of Sadie and Fred Dickman of Trenton. He was never legally adopted as his father was still living but this was "home" to him. The Dickmans' loved him and raised him as their own son. He considered them his parents for the rest of his life.

The report continues..."The Discmans' have no children. They have an 8-room, well-furnished house. Has piano and radio. Woman raises poultry. This farm of 160 acres is one of the best in the community. Couple have a new automobile."

"William is interested in poultry. Mrs. Dickman, an expert, is surprised to see his practical knowledge. Foster father teaches him stock-raising. Boy is honest, dependable, reliable, contented. Completed 8th grade in rural school in 1930. 01-13-31 letter from William shows his satisfaction with environment. Has a heifer and calf. William is a very good boy, livelier and full of fun; very nice-looking but rather short for his age. Good understanding between William and foster father. Boy appeared free and normal."

While living with the Discmans', William was given a beautiful, white pony named Lady White. He now had transportation to visit his friends and expand his horizons. He really loved that pony. What a wonderful gift.

William's career path took him in 1930 to Ranken Trades School in St. Louis to pursue a degree as a machinist. He worked part-time to pay part of his tuition and to cover his living expenses. He lived very frugally as he had only one change of work clothes and in one report, did not have a warm winter coat. He went back to Trenton whenever he could and did his laundry there to save money. He often returned to school with food from the farm.

William thrived in the trade school environment. He was an excellent student and often helped his fellow students when they had difficulties. He became an alter boy at St. Peters Episcopal Church after giving testimony before a large audience of his life as a result of being an Orphan Train rider. He trained for a one-mile running event and won it, setting a new record for the school of 5 minutes, 2 seconds which is ten seconds faster than the previous record set twenty years before in 1915.

CAS continued to monitor him after he joined the Army in 1935 and was stationed at Jefferson Barracks in St. Louis. Miss Greenleaf, his supervisor, took a personal interest in him and they communicated by letter about his progress and adventures.

Miss Greenleaf told of a letter she received from William in which "he had won a boxing contest. He enclosed newspaper clipping showing his picture and naming him Lightweight Boxing Champion in the Golden Gloves Tourney at Jefferson Barracks. He defeated a ring veteran of sixteen years' experience, rated a professional....".

William continued to exchange letters with Miss Greenleaf for many years as he pursued his career as a mechanic in the Army, met and married a beautiful, young woman from Eldon and raised a family of five children.

Victor Remer's letter to Wilma Frank concludes..."I have photocopied Bill's progress reports from his placement with the Dickmans' through his enlistment in the Army. It was a wonderful report of a truly nice man; an honest, caring, gifted, hard-working person; a talented athlete, a self-made meticulous craftsman and a person of strong will and perseverance. I hope you enjoy reading the record as much as I did.

"It was obvious that our staff who worked with him were quite fond and very proud of him. Miss Greenleaf attended his graduations, induction in the Army and witnessed major steps in his life. He was a special kind of person as you know better than we. I hope this answers all your questions.
With kindest personal wishes, sincerely:
Victor Remer