LARUE CO., KY CIRCUIT COURT ORDER BOOK 1848-1849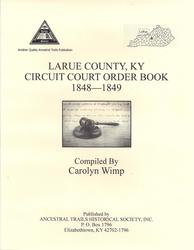 SKU: ISBN# 978-1-939669-12-4
Compiled by Carolyn Wimp (2017).
References cases involving trespass,
assault, battery, felony, land disputes, failure to keep a road in repair,
naturalizations, debts, drunkenness, vagrancy, swearing, chancery and more. A
glossary of law terms used in the book is included. Every name index. 199 pages, soft cover and spiral bound.