Chris Lueken's blog
Submitted by Chris Lueken on March 1, 2011 - 6:12pm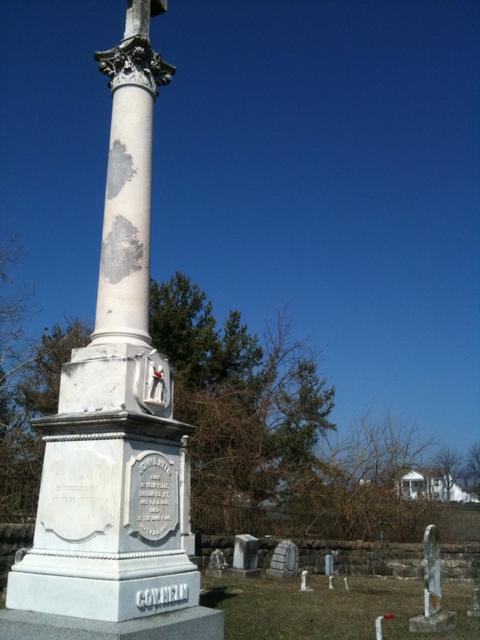 Today my daughter had an extended school day to make up for the larger number of snow days this year, so I made my way down to Elizabethtown. After stopping in the Hardin County History Museum, I made my way north on Dixie Highway with the window down, simply enjoying the first day of March.
At a stop light I noticed to my right a cemetery on a hill, surrounded by a beautiful stone wall. I immediately pulled my car over, parked and walked up the hill to the cemetery.
Turns out, I was visiting the Helm Cemetery for the first time in person. I had read about it before numerous times in books and online on www.findagrave.com, but had never seen it.
The grave marker for Governor John L. Helm is fantastic. On the front it says, "John L. Helm, born at Helm Place, Hardin County, Ky., July 4 A.D. 1802, Died at the same place, Sept. 8, A.D., 1867".
Here are some quick facts on the man from wikipedia:
"John LaRue Helm (July 4, 1802 – September 8, 1867) was the 18th and 24th governor of the U.S. state of Kentucky, although his service in that office totaled less than fourteen months. He also represented Hardin County in both houses of the Kentucky General Assembly and was chosen to be the Speaker of the Kentucky House of Representatives four times. In 1838 his sole bid for federal office ended in defeat when his opponent, Willis Green, was elected to the U.S. House of Representatives.
Helm was first elected to the Kentucky House of Representatives in 1826; between 1826 and 1843 he served eleven one-year terms in the state house. In 1844 he was elected to the state senate, where he served continuously until he was chosen as the Whig Party nominee for lieutenant governor on a ticket with John J. Crittenden, famous for the Crittenden Compromise. The Whigs won the general election and Helm was elevated to governor on July 31, 1850, when Crittenden resigned to accept an appointment as United States Attorney General in President Millard Fillmore's cabinet. After his service as governor Helm became president of the struggling Louisville and Nashville Railroad. He invested thousands of dollars of his own money in the project and convinced residents along the line's main route to buy stock in the company. In 1859 the line was completed, but the next year Helm resigned over of differences with the board of directors regarding a proposed branch that would extend the line to Memphis, Tennessee.
Although he openly opposed secession during the American Civil War, federal military forces labeled Helm a Confederate sympathizer. In September 1862, he was arrested for this alleged sympathy, but Governor James F. Robinson recognized him as he was being transported to a prison in Louisville and had him released. After the war Helm identified with the Democratic Party, and in 1865 Hardin County voters returned him to the state senate. In 1867 he was the state's Democratic candidate for governor. Despite his failing health, Helm made a vigorous canvass of the state and won the general election. He was too weak to travel to Frankfort for his inauguration, so state officials administered the oath of office at his home on September 3, 1867. He died five days later."
What amazed me most is that you can still see the house he died in, the family home, while you are standing at his headstone. You can't miss the big white columns that grace the front of the house. It's wonderful to see a house and cemetery so old, taken care of so well.