The Orphan Trains – Part I
Submitted by ATHS Admin on July 4, 2013 - 6:28pm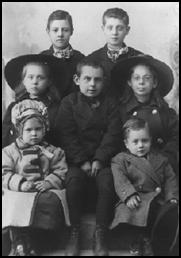 THE ORPHAN TRAINS – PART I
by C.U. Laeter & Sylvia Frank Mabe
Part II of the Orphan Train Movement will present the story, secured through considerable research and accumulation of original records, of the father and uncle of Sylvia Frank Mare (ATHS #3162 - Bellfair, Florida) who rode the Orphan Train.
The Orphan Train Movement was a social experiment that transported children from crowded coastal cities of the United States, such as New York City and Boston, to willing foster homes across the country. The orphan trains ran between 1854 and 1929, relocating an estimated 250,000 orphaned, abandoned, or homeless children. At the time the orphan train movement began, it was estimated that 30,000 vagrant children were living on the streets of New York City.
Two charity institutions, The Children's Aid Society (established by Charles Loring Brace) and later, The New York Foundling Hospital, determined to help these children. The two institutions developed a program that placed homeless city children into homes throughout the country. The children were transported to their new homes on trains which were eventually labeled "orphan trains." This period of mass relocation of children in the United States is widely recognized as the beginning of documented foster care in America.
Brace believed that institutional care stunted and destroyed children. In his view, only work, education and a strong family life could help them develop into self-reliant citizens. Brace knew that American pioneers could use help settling the American West, so he arranged to send the orphaned children to pioneer families. "In every American community, especially in a Western one, there are many spare places at the table of life," Brace wrote. "They have enough for themselves and the stranger too." When the movement began, it was estimated that 30,000 orphaned or abandoned children were living on the streets of New York City. Many were sent west to find families and new homes, on trains that became known as "orphan trains". Sometimes there would be 30 to 40 young children riding with two or three adults. The children ranged from newborn babies to older teenagers. Conditions on the early trains were poor, little better than cattle cars. In later years, conditions improved.
The children were encouraged to break completely with their past. The children would typically arrive in a town where local community leaders had assembled interested townspeople. The children would usually be put up on a "stage like" podium for viewing and inspection. The townspeople would inspect the children, perhaps feeling muscles and checking teeth, and after a brief interview take the chosen ones home. Children might sing or dance to attract interest. Sadly, many siblings were separated during this process because the parents only wanted to take one child. Some children became indentured servants to their host families, while most were adopted, formally or informally, as family members.
Between 1854 and 1929, more than 250,000 children rode the "Orphan Train" to new lives. The National Orphan Train Complex in Concordia, Kansas maintains an archive of riders' stories and also houses a research facility.
Two famous former orphan train riders are Governor John Green Brady of Alaska, and Governor Andrew Burke of North Dakota.
The program was not without criticism. In its early days some abolitionists viewed it as a form of slavery, while some pro-slavery advocates saw it as part of the abolitionist movement, since the labor provided by the children helped to make slaves unnecessary.
The National Orphan Train Complex, also known as the National Orphan Train Museum and Research Center, is located in Concordia, Kansas. The Museum and Research Center is dedicated to the preservation of the stories and artifacts of those who were part of the Orphan Train Movement from 1854-1929. The museum is located at the restored Union Pacific Railroad Depot in Concordia which is listed on the National Register of Historic Places. Services offered by the museum include rider research, educational material, and a collection of photos and other memorabilia.
What was it like to ride the Orphan Trains? 1904 Orphan Train
What was it like to ride the orphan trains depends upon when you rode them. Some of the first were little better than cattle cars with seats and make-shift bathroom facilities. Later, as more money became available, the riders were able to ride in better cars. The last riders were able to ride in Pullman cars [sleeping cars].
Picture 30 to 40 very young children traveling with two or three adults. These children varied from babies to children in their teenage years. Most of these children had no idea of what was happening to them. They may have been told that they were going out west, but they really had no idea what that meant. Most of them had never been outside their place of birth. The children, that were older than babies, often were frightened, sometimes excited over the new views outside the train windows, and often were very confused over what would happen next.
They lost any means of contacting their relatives from whence they came. They were never to speak, or think of their families again. They were to completely start over with new families. The older children would remember their old life. The babies would have no memory of life in New York.
When the trains pulled into the stations, the caretakers would get the children cleaned up and ready for inspection. The children would climb down the tall train car steps onto the platform, and march to the meeting place. Sometimes this meeting place would be a baggage wagon on the train platform-sometimes it was the local church-sometimes it was the local opera house [what we would call the movie house now]. Almost always, the children were up on a stage of some kind. This became known as being Put Up For Adoption.
Many times the children were inspected like they were livestock. Muscles were felt. Teeth were checked. Sometimes the children would sing or dance trying to attract the attention of new mothers and fathers. It was frightening to have complete strangers looking them over and touching them. If they were lucky, someone chose them. Papers were signed and they went home with their new parents. While a local committee made sure that the new parents were fit to be parents, it was not much of an inspection compared to today.
One of the saddest parts of this procedure was often the new parents could not take more than one child. If brothers and sisters were lucky, they were taken by families in the same area so they could visit. If they were not lucky, brother, or sister, would get back on the train without them and go many miles further down the track. It was not uncommon for brothers and sisters to lose track of each other completely.
The following circular was sent out from the Oskaloosa Independent in Valley Falls, Kansas in December, 1919. 
Wanted! Homes for orphan children.
A company; of orphan children under the auspices of the Children's Aid Society of New York will arrive at Valley Falls, Thursday afternoon, December 8.
These children are bright, intelligent and well disciplined, both boys and girls of various ages. They are placed on trial, and if not satisfactory will be removed. Parties taking them must be well recommended. A local committee of citizens of Valley Falls has been selected to assist the agents in placing the children. Applications must be made to and endorsed by the local committee. Bring your recommendations with you. The following well known citizens have agreed to act as a local committee: J.T.B. Gephart, L.H.Burnett, Alex Kerr, A.D, Kendall, Dr. A.D. Lowry and Neil McLeod. Distribution will take place at the opera house, on Friday, December 9, at 10 a.m. and at 2 p.m.